July 04, 2016
Sergio Fernandez – Volcano Ep – Goldentears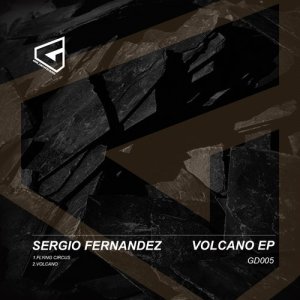 Supported by: Joseph Capriati, Shiba San, Kenny Brian, Paco Osuna, Steve Lawler, Maceo Plex, Fedde Le Grand, David Herrero Denite, Lane 8, Horatio…
Artist: Sergio Fernandez
Title: Volcano Ep
Style: Techno,House,Te…
Release: Sep 14 2015
Label: Goldentears Records
Cat: GD005
REVIEW:
http://www.datatransmission.co.uk/news/debut-transmission-sergio-fernandez-volcano/
http://www.deephouse.it/sergio-fernandez-volcano-ep-goldentears/
http://www.beat-vision.com/article/BBV55d855c6d84e5/tech-house-bliss-with-sergio-fernandezs-volcano-ep-via-goldentears-records
http://wickedstyle.neural.it/2015/08/sergio-fernandez-volcano-ep/
DJs
Joseph Capriati
Downloaded for Joseph Capriati, thanks.
Shiba San
downloaded for shiba san
Richie Hawtin (Minus)
downloaded for r hawtin
Cristian Varela (Pornographic Recordings)
Downloaded
Marco Carola (Music On)
downloading for marco carola, thanks
Robert Owens (world)
Cool tracks
Kenny Brian (Time Has Changed/Resopal Schallware/Takt Records/Pacha/Monique S)
nice one, thanks
Paco Osuna (Plus 8)
Will try thanks 😉
Steve Lawler (VIVa MUSiC / VIVa Limited)
Downloaded for Steve Lawler, thanks.
Maceo Plex (ELLUM Audio )
downloaded for Maceo Plex / Maetrik, thanks for the music!
David Vendetta (Blackhole Records / Spinnin Records / Sony Music / Sea to Sun)
Good !
Sophie Nixdorf (Overdrive):
Downloaded for Sophie Nixdorf, thanks.
Fedde Le Grand (Ministry Of Sound / Defected / Kontor / Ultra / Armada / Spinnin):
Thank you for the music you sent us! We look forward to reviewing it.
Dario d'Attis
Volcano….thank you
David Herrero (Ole Music )
Downloaded for David Herrero, thanks.
Nicole Moudaber ():
diggin
Luca Fabiani
Thanks for the music.
Kenny Carpenter
Volcano is nice!
Jimmy Van M ():
Flying Circus is cool. Thanks!!
Gene Farris
thanks!!!
ATAXIA (Connaisseur / Paxahau)
Thanks for good music! Nice acid line on Volcano 🙂 will try.
Sossa (Circoloco):
nice release full support
Momo Dobrev (Phraser Records)
nice release, thanks!
Benji Candelerio
Good Tune
VooDooSon (Loulou , Sleazy G , Street King , Cr2…)
Download for VooDooSonTHx!
Roberto Surace
thanks for music 🙂
Olivier Weiter
Volcano gonna try it 2night, thanks! great energy!
Denite (Diynamic, Get Physical, Third Ear, Redlight Music)
nice! Thanks for the Music!
Sleepy & Boo
Will play. Voclano is our pick.
Lane 8 (Anjunadeep / French Express):
interesting, may try
One Million Toys (Baroque/Mistique/Freegrant/Fatali Music)
Solid grooves!
Haurelio (Wicked Style)
huge techno…
DANIELE TIGNINO
Very Good!!!
Michael Stukes (Dubmaster Productions)
D O P E !
Sergey Sanchez
Flying Circus is great. Thanks!
Spirko
QL ! tnx 😉
Nick Fiorucci (Hi-Bias, zipDJ)
Downloading c/o Nick Fiorucci
Francois Bresez & El Marco (CWA- CWV – konzept [:] musique – Supermarket Unlimited – Rimoshe)
Both are great!
Da Cat (Balearic Affair )
volcano for mecheers
Sanya Shelest/No Hopes
nice tracks!
Wayne Madiedo (Habitat, 303lovers, Hotfingers, Abzolut)
Nice EP 😉
Hernan Serrao (Groovenight Records – Convert Records – vise versa music – twist)
downloading for Hernan Serrao
Dj Raid aka Jeancy (Get Physical, Form, Witty Tunes, Beat Yourself, Electronique, Mo)
Really nice EP!
Paul Rodner (Bitten/Deeperfect)
Flying Circus is my fav, thanks
Bara Bröst (Exploited/BBE Records)
thanks!
Jason Owen (Evoked/Polytechnic)
Both are good!
Neil Parkes (Hot Creations)
Volcano for me 🙂
Collective Machine (Terminal M/Collective Music/KD)
wow! great ep, Flying circus my fav! thx
Horatio (Natural Rhythm / Desolat / Viva Music)
cool ep
Philip Arruda (RedOrbRecords-Rawthentic-Roots+Wings)
Gold. Well done Sergio Fernandez. pro as always. will play/chart thx 🙂
Titan Road (Monkeys Music / Dear Deer / Future Allianz):
Flyinc circus is awesome! Thanks for sending
Yoshi Horino ():
Cool release.
DJ 19 (19BOX RECORDINGS):
I felt love 4 Volcano!
Rico from Paris – Bimini Records ():
Another great EP by GT rec. SUPPORT!
Westboy (Noir music / Diynamic/ Suara ):
cool tracks!
Pablo Basel ():
Downloaded for Pablo Basel, thanks.
Raf Dask ():
Cool Sounds! Flying Circus for me, Thanks.
Phoneme ():
flying for me
Daniele Travali (toolz records blackrose records houserepublic records unlocked p):
flying circus is cool
Juanfra Munoz ():
Both tracks are great! Full Support!
MEDIA
dj.inc. (tempoatl, protonradio)
might work in some sets, thanks!
Alex Clavijo (JMG Magazine Bar Stool Magazine)
Flying Circus is great! Thanks!
Mannix (Tilllate Magazine/98.3 Superfly/Play FM)
both work
Misk (AltroVerso Radio)
playlist in altroverso
Mental X (SOG Rec / Swiss National Radio DRS VIRUS)
BIG!!
Andrea Belli (Radio 105, Italy)
beautiful and sick!!!
Mark J (barcelonaconnect.com)
flying circus !
Onirika (Proton/DiscoPiu/m2o/Rax Musik)
really good thanks. support
i3000 aka Mario
Tks for the release
DJMmagazine
Nice release… Thank!!!!
Decoded Magazine
Solid release, full support
Steve 'Butch' (Something Global Radio)
Thank you for the music, downloading for Something Global (radio show / podcast).
Jacbri Mag
thanx
Beat Vision (http://www.beat-vision.com)
nice release, thanks
Deephouse.it
nice release!
Harry Avers (Noice Podcast)
Solid Release…..
Andi Durrant (Capital FM)
Downloading for Andi Durrant/Distorted Productions. Tracks also delivered for EDX, Chicane, PvD and BCM Radio Shows. Check track lists for support info.
Phill Da Cunha (FG Radio )
Vocano Rocks ! Full support Underground FG #indeepwetrust
Mesquitas (AELLA/THIRTYONETWENTY/HOST AT 106.7FM)
Nice release thank you for sending will try
Magistro Ray (Notte Brava Podcast)
THX Support!!!
Plastic Lounge (Radio-FDS/CLUB 27):
volcano is it
Mickey Imperi (Beachgrooves Fm , LeChicFM , Tunnel FM, TheDeepRoom, HMX Radio):
Thanks for this excellent release. Volcano works for me.Will include in my radio programs
Russell Deeks (This Is Why We Dance):
Liking Volcano best here
Label Leaks Radioshow ():
Supported by Label Leaks !
David F (User Already Exists):
liking Volcano here
Julian Rodriguez (SexOnWax / Mistique / Sound Avenue / Massive Harmony):
thankss