February 08, 2017
Carlos Manaca, Chus & Ceballos – The Strong Rhythm (Remixes)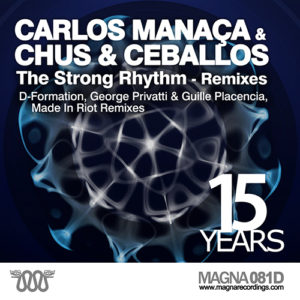 Supported by Wally Lopez, Darin Epsilon, D-Unity, Hector Romero, Raumakustik, Ivan Pica, Astin, Cristian Varela, Paco Maroto, Shiba San, Paco Osuna and many others!
ARTISTS: Carlos Manaça, Chus & Ceballos
TITLE: The Strong Rhythm – Remixes
LABEL: Magna Recordings
CAT. #: MAGNA081D
GENRE: Techno
FORMAT: Digital
RELEASE DATE: 20/02/2017
TRACKLIST:
01. The Strong Rhythm (D-Formation Remix)
02. The Strong Rhythm (George Privatti & Guille Placencia Remix)
03. The Strong Rhythm (Made In Riot Remix)
DESCRIPTION:
The last release to celebrate Magna Recordings 15th Anniversary is a package with new Remixes of one of our best selling vinyl releases: "The Strong Rhythm" by Carlos Manaça and now worldwide famous duo Chus & Ceballos. Way back in 2001, "The Strong Rhythm" was Stereo Productions 001 release, an Manaca, Chus & Ceballos co-production that got an amazing feedback from all corners of the Globe, being included in some of the best Dance compilations by that time. In 2016 we decided to bring it to life again, to close our "15th Anniversary" serie of new Remixes of some of our best selling tracks. Spanish top Producer D-Formation gives "The Strong Rhythm" his typical dark Tech groove with a mellow atmosphere and analogic bass line, while Barcelona based George Privatti & Guille Plasencia deliver a funky Tech House version, with a great groove and top percussions. Upcoming new Spanish producer Made In Riot delivers a great deep Techno version of this Magna Recordings and Stereo Productions classic.