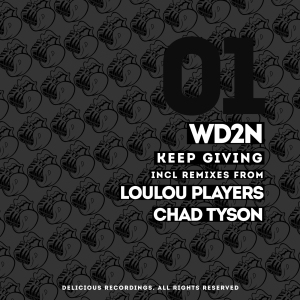 Supported by: Joris Voorn, Shiba San, Paco Osuna, Mark Knight, Miguel Migs, The Mekanism, Dubfire, Richie Hawtin, Stacey Pullen, Vanilla Ace, The Beatangers, Simone Vitullo and many others!
ARTIST: WD2N
TITLE: KEEP GIVING
LABEL: DELICIOUS RECORDINGS
CAT.#: DR001
DJS
Joris Voorn (Rejected):
Downloaded thanx!
Richie Hawtin (Minus)
downloaded for r hawtin
Shiba San
nice
Mark Knight (Toolroom Records)
cool beats
Dubfire (Sci+Tec)
Downloaded for Dubfire, thanks!
Thee Cool Cats ((Get Physical, Nurvous, CUFF))
lou lou players remix is fly no doubt,
Joseph Capriati
Downlaoded for Joseph Capriati, thanks.
Paco Osuna (Plus 8)
Will try thanks 😉
Marco Carola (Music On)
downloading for marco carola, thanks
Miguel Migs (Salted Music)
will download and check out the lou players mix thanks…
The Mekanism
I will try Lou Lou Players and Chad Tyson Remix
Stacey Pullen
cool thanks
Gene Farris
thank you!
Sammy W & Alex E (TOBUS)
Loulou Players Remix, thanks
Vanilla Ace (OFF, NURVOUS, TOOLROOM, BUNNY TIGER, DEAR DEER, SLEAZY G)
Chad Tyson remix
David Keno (Play It Down / Keno Records)
cool release!
Thebeatangers
original mix is fresh 😉 thanks !
Milkwish
nice EP! Original & LouLou Players Remix sounds good – will try out for sure!Thanks
Tim Baresko
Chad tyson remix for me
GruuvElement's (Groove On/Stereo Production/Natural Rhythm)
thanks for music
Simone Vitullo (Go Deeva Records / Basica Recordings)
downloading thanks
JP Chronic (Chronovision Ibiza)
grooving
Sophie Nixdorf (Overdrive)
Downloaded for Sophie Nixdorf, thanks.
Deepjack
Original mix pretty good. thanks
Michael Stukes (Dubmaster Productions)
Chad Tyson remix for meeeee…
DJ 19 (19BOX RECORDINGS)
So 80s!! Will try to play Original Mix at my chillout set!
Rico from Paris – Bimini Records
Loulou players remix is cool, I'll play this week end in Miami
BLACKSOUL
LouLou rmx is bomb
Tolstoi
Nice G-House 4tw! LOU LOU 4 me!
Saccao
original for me brotha
Pedro Mercado
cool version from my Belgian colleagues Lou Lou!
Max Alzamora (Toolroom , DTD records)
thanks for the music !!!
Anderson Noise
thanks for the music
Jullien Polewka (JETT Records)
cool loulou thanks
Fernando Mesa
Nice pack! Thanks!
yestefindeque
Nice release!
Giom (Loulou Records)
All about the Loulou mix!
Alkalino (Audaz / SOR)
will try thanks!
Vijay & Sofia Zlatko (Vijay & Sofia Zlatko)
Really nice Ep.Original & Loulou rmx for us 😉
VooDooSon (Loulou , Sleazy G , Street King , Cr2…)
Download for VooDooSon Thx
Dennis Cruz (Lemon-Aid Music)
Downloading to try out thx
Marquez Ill / Arquette (Voltage Musique Records)
Sounds fresh. Will try all versions. Thanks!
TrockenSaft (KDB/Witty Tunes/Smiley Fingers)
Not 100% my sound! But think ill try Chad Tyson in my future sets!!!
Jason Owen (Evoked/Polytechnic)
very nice!
Da Lukas (LouLou Records/303Lovers/King Street Sounds/Hotfingers…)
Lou Lou Players rmx is nice.
Alex B. Groove
Lou Lou PLayers is my mix
MEDIA
Global Dance Session
Great mix package.
Mark Mac (The Sounds Collective 107.3 FM /Swoon / DHR)
Great tunes excellent production and a stunning vibe! Thanks guys Mark Mac
Deephouse.it
thank you!
simon deep (Fresh FM Volcano Radio Pulzar FM 0FM deepsouthaudio.net)
Diggin these thanks
partyflock.nl
Nice tracks, keep up the good work
Jacbri Magazine (Jacbri)
cool remixes
dj oxide (Jackhouse/UMFM 101.5)
decent stuff for the clubs but i don't play this style anymore
Mlan Geto | The Clubber
cool release, thanks
Seb FM4
Chad Tyson remix is cool! thx
Sampler Magazine
Support! Lou Lou Players Remix!
maDJam (Mix FM Lebanon/Peppermint Club Dubai)
nice tune!! thanks 😉
Pete Simon (54house.fm)
amazing rework,good mixes,try and test it over the summer
extramusicnew
On promo chart
Tim Thaler (BLN FM)
downloading
Mark Found (Digitally Imported)
great original !! thanks
Harry Avers (Noice Podcast)
will check out… thanks…..
Cream (Electronic Tree/Proton/Soundteller Records)
Nice release. Thx!
MARK J aka Supagroove (Journalist, PR Consultant Music industry & Events)
chad tyson for me!
Mike Swells (RISE, Boston)
Chad Tyson nailed the lowend
Adam Vicious (Strictly House Sessions)
good stuff, thanks
Bramus (FM Delta 90.3)
Nice support here.
Misk (AltroVerso Radio)
playlist in altroverso
Lipstick Disco
lou lou players mix. winner!
Andi Durrant (Capital FM)
Downloading for Andi Durrant/Distorted Productions. Tracks also delivered for EDX, Chicane, PVD and BCM Radio Shows.
Mental X (SOG Rec / Swiss National Radio DRS VIRUS)
chad tyson for me
David F (Mirabilis Records)
liking the original here
Steve 'Butch' (Something Global Radio)
Thank you for the music, downloading for Something Global (radio show / podcast).
Susinho (Club Time Radio Show)
I like it!! Total support!! Thanks!! :))
If you need music promotion for your next relese, just contact us!