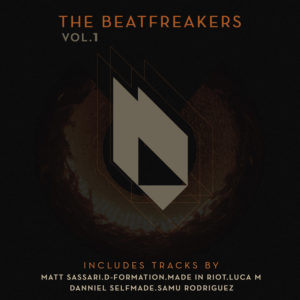 Supported by Timo Maas, Agoria, Anna Tur, Rampue, Stacey Pullen, Paco Maroto, Shiba San, Spartaque, Joseph Capriati, Tiger Stripes, The Junkies, Anthony Pappa, Astin, Robert Owens, Ivan Pica, Miss Mee, Sossa and many others.

BUY HERE:
https://www.beatport.com/release/the-beatfreakers-vol-1/1917759
ARTISTS: Matt Sassari, D-Formation & Made In Riot, Luca M, Danniel Selfmade, Samu Rodriguez
TITLE: The Beatfreakers Vol.1
LABEL: Beatfreak Recordings
CAT. #: BF150
GENRE: Tech House/Techno
FORMAT: Digital
RELEASE DATE: 20/01/2017
TRACKLIST:
01. Matt Sassari – Isluga (Original Mix)
02. D-Formation, Made In Riot – Sunday (Original Mix)
03. Luca M – Sankee (Original Mix)
04. Danniel Selfmade – Schieber (Original Mix)
05. Samu Rodriguez – Maniatic (Original Mix)
DESCRIPTION:
We are very proud to present for first time our VA EP Beatfreakers Vol.1. We have on board highly respected and very talented producers such as Matt Sassari, D-Formation & Made In Riot, Danniel Selfmade, Luca M and Samu Rodruguez.
Matt Sassari – one of the Techno and Tech House producers cracking the charts in Beatport with every next release with his specific strong techno sound. He has a previous tracks on SCI+TEC, Tronic, Bitten, Deeperfect, Kinetika, Alleanza, Kraftek and many more and they are played by artists such as John Digweed, Richie Hawtin, Dudfire, Carl Cox, Luciano, Maceo Plex, Laurent Garnier and more. Welcome Matt Sassari to Beatfreak Recordings with his powerful track "Isluga", absolutely guarantee that it will crack the dance floor at any time.
D-Formation & Made In Riot – incredible collaboration between the legend in the electronic music D-Formation and between one of the most innovative artists Made In Riot. Both of them constantly hit the charts in Beatport by releasing tracks on major labels. Here we have them with their stunning track "Sunday" – a great combination of a strong rhythm and hypnotizing elements, perfect to rock the crowd.
Danniel Selfmade – very experienced Spanish producer in the genre of Techno, Tech House and Minimal. He has a previous releases on Deeperfect, Stereo Productions, 1605, Elrow, Elevate, Nervous and he has frequently collaborations with world class professionals such as Pig&Dan, Stefano Noferini, David Herrero, Paco Maroto, DJ Chus, Luca Lento, Methodi Hristov, Dela Swing and many more. His tracks are played at some of the words best parties and festivals like Time Warp Germany and BPM Festival Mexico. He brings us his massive and outstanding track "Schrieber", with strong groove and melodic niches ideal for your sets and making the crowd move under his unique strength sound.
Luca M – a Romanian impressive Tech House and Techno artist with a highly recognizable sound. His music is played by artists such as Marco Carola, Richie Hawtin, Joseph Capriati, Solomun, Hot Since 82, Joris Voorn, Paco Osuna and many more. Luca M has various tracks breaking the Top 100's charts in Beatport and he managed to sign his works on great labels as Suara, Toolroom, Terminal M, Knee Deep in Sound and many more. Here we have Luca M with his powerful and melodic track "Sankee", guarantee for rocking the crowd at any dance floor.
Samu Rodriguez – a fresh, new and promising talent from Spain focused in producing infectious Tech House sounds played by Marco Carola, Joseph Capriati, Super Flu, Stefano Noferini, Tapesh, Horatio and many more. His tracks have been several times in the top 100 at Beatport, having placed until reaching the top 10 of the top 100 even number 2. He has previous releases on Serkal, Elrow Music, Be One records, Tulipe Records, Local29 Records, Ole Music and more. Beatfreak has him with his track "Maniatic" – perfect combination of underground rhythm and impressive vox, ideal part of your sets at any time.