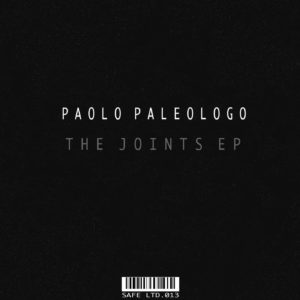 Supported by: Cristian Varela, Jerome Robins, Vanilla Ace, Joy Kitikonti, Joseph Capriati, Marco Carola, Stacey Pullen, Rich Vom Dorf, The Mekanism, Benji Candelerio, Richie Hawtin…
ARTIST: Paolo Paleologo
TITLE: The Joints Ep
RELEASE DATE: 15 Jul 206
LABEL: Safe Music Ltd
CAT.: SAFELTD013
DJs
Cristian Varela (Pornographic Recordings):
nice music! downloading for Cristian Varela…
Fedde Le Grand (Ministry Of Sound / Defected / Kontor / Ultra / Armada / Spinnin)
Thank you for the music you sent us! We look forward to reviewing it. Should we decide to use your material we will notify you as soon as possible…
Jerome Robins (Toolroom Records/Stereo Productions/CR2/Kittball)
downloaded for jerome robins
Vanilla Ace
Cool sounds
Joy Kitikonti (Desolat, Nervous, Monique):
The Joint is my fav!! Thx
Joseph Capriati
downloading for joseph capriati, thanks !
David Vendetta (Blackhole Records / Spinnin Records / Sony Music / Sea to Sun):
It Doesn\'t Mean is good for me.
Marco Carola (Music On):
downloading for marco carola, thanks
Stacey Pullen ():
cool thanks
Rich Vom Dorf ():
MEAN is big big big
Neil Parkes (Hot Creations) ():
The Joint for me thanks 🙂
The Mekanism ():
Downloaded for The Mekanism
Benji Candelerio ():
good tune
Richie Hawtin (Minus)
downloaded for r hawtin
JJ Mullor (MusicAllStars | Armada | Nervous | 1605 | Juicy Music | Supermar)
will try out, thank you
Paco Osuna (Plus 8)
Will try thanks 😉
Shiba San
downloaded for shiba san
Nick Fiorucci (Hi-Bias, zipDJ):
Downloading c/o Nick Fiorucci, zipDJ / Hi-Bias / zipCAST.fm
Juann Bocca / Tha Bass-Room (Bunker, Arena Music, Suara):
dl for miguel
Sean Roman (Hot Waves, Outcross, My Favorite Robot, Act Natural, Neim)
it doesnt mean is the one for me will try it out
J Paul Ghetto
downloading for JPG , thanks!
DANIELE TIGNINO
Does'nt mean is 4 me!!!!
Anderson Noise
Thanks for the music
JP Chronic (Chronovision Ibiza)
both tracks are slamin, full support
Marquez Ill/Arquette (Voltage Musique Records)
Yeah, will play! 5 stars. Merci!
i3000 aka Mario (Radio Studio One)
I will try tks for studio one
Barbur (Barbur Room Berlin | Asymmetric | Pumpz)
It Doesn't Mean for me. very cool! thanks
Nutritious
Good fun. Dig it.
De La Maso (Area Remote / Bla Bla) (German)
great
Bebetta (Monaberry):
will try
Ceo Basso (andante,kdb,highway):
Cool sounds
Mikel Gil ():
The Joint for me.
Thanks
Luca Fabiani ():
Thanks for the music.
Lea Dobricic (Deeperfect Records):
Thanks for the music, I will try it out
Stefano Lotti ():
Downloaded for Stefano Lotti. Thanks for the music!
FreakMe (Noir):
Thanks for the music!
MEDIA
Mark J (comuniquem.com)
doesnt mean is ace!
Lipstick Disco
great EP!
Beat Vision
ripping tracks these….
Deephouse.it
Thanks for the music!
Dubiks Blog
I will check,thanx
Andrea Mazza (M2O Radio Italy)
Thanks! Downloading for Andrea Mazza. Please check Trance Evolution official on Facebook for Radio tracklistings and support.
Harry Avers (Noice Podcast)
a solid EP….
Alex B. Groove (Deephousecat) ():
wil try
Jacbri Magazine (Jacbri):
solid ep
Danzeria.com ():
Sounds awesome, will suport and play.
Mesquitas (AELLA/THIRTYONETWENTY/HOST AT 106.7FM):
cool pack will try in my radio show!tnx
Something Global Radio (Something Global Radio):
Thanks for the music, downloading for Steve\'Butch\'Jones presents SOMETHING GLOBAL
Damian Force (DotDanceTv):
Nice hit – It Doesnt Mean
DJW Magazine (Editor):
Bueno
Dustin Kinney (5 Magazine):
Sounds good!
Magistro Ray (Nottebrava Podcast):
THX support…
wiredmusic.eu ():
Nice, will play. thanks
Platinum Radio London ():
Thanks, i\'ll pass on go DJ\'s on station
dj.inc. (tempoatl, protonradio):
The joint for me
Global Dance Session ():
Nice work…. Downloading for Global Dance Session, thank you!