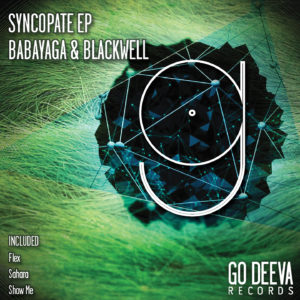 Supported by Shiba San, Marco Lys, Paco Maroto, Simone Vitullo, Kenny Ground, Kinree, joeB Richie Hawtin, Lane 8, Will Monotone, Joseph Capriati, Paco Osuna, Sergey Sanchez, Stacey Pullen, Miguel Lobo, Joy Kitikonti, Anthony Pappa, De La Maso, Darko de Jan, Hippie Torrales, American Dj, Kenny Brian, Paul C, Martin Ikin and many others!
ARTIST: Dj Josh Blackwell, Miss Babayaga DJ
TITLE: Syncopate EP
LABEL: Go Deeva Records
CATALOGUE #: GDV1636
TYPE: Digital
RELEASE DATE: 19/12/2016
TRACKLIST:
01. Sahara (Original Mix)
02. Flex (Original Mix)
03. Show me (Original Mix)
DESCRIPTION:
Babayaga & Josh Blackwell have explored many styles in their career and the vast palette of sounds and hypnotic rhythmic elements makes their music exceptionally infectious. This time they delivered, from theirs "Studio Bus" parked on a Caribbean beach, this new powerful tech-house EP: SYNCOPATE, that is also the name of theirs famous brand "Syncopate after hours", 10 days of after parties held during the world's renowned BPM festival in Playa del Carmen, Mexico.
SOME LINKS:
https://www.facebook.com/syncopategroup
https://www.facebook.com/babayagadjofficial
https://www.facebook.com/joshblackwelldj
https://www.beatport.com/artist/miss-babayaga-dj/112547
https://www.beatport.com/artist/dj-josh-blackwell/44329