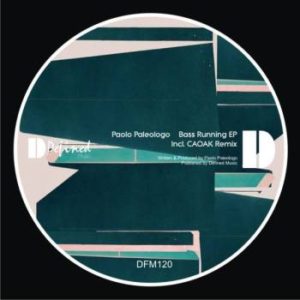 Supported by: Ilario Alicante, Robert Owens, Richie Hawtin, Marco Carola, Paco Osuna, Shiba San, Joseph Capriati, Fideles, The Mekanism, Markantonio, Kenny Carpenter…
ARTIST: Paolo Paleologo
TITLE: Bass Running Ep
RELEASE DATE: Mar 25 2016
LABEL: Defined Music
CAT.: DMF120
REVIEW:
http://www.beat-vision.com
DJs
Robert Owens (world)
Cool tracks
Richie Hawtin (Minus)
downloaded for r hawtin
Marco Carola (Music On):
downloading for marco carola, thanks
Paco Osuna (Plus 8):
Will try thanks 😉
Shiba San ():
downloaded by shiba san
Joseph Capriati
downloading for joseph capriati, thanks
Fideles (Upon You – DFTD – Be As One)
cool.
The Mekanism ():
Cool tracks thanks!
Markantonio (MKT Records_Analytictrail records)
Downloading for Markantonio…thanks for the music!!!
Kenny Carpenter ():
Bass Runnig, Love It!
Sophie Nixdorf (Overdrive):
Downloaded for Sophie Nixdorf, thanks.
Martin Ikin / Soul Purpose (Soul Purpose)
Original is cool
Bebetta (Monaberry)
Caoak Remix for me!
ilario alicante (Cocoon)
Downloading for Ilario Alicante, thanks for the music!
VooDooSon (Loulou , Sleazy G , Street King , Cr2…) ():
Download for VooDooSon
Thx
Denite (Diynamic, Get Physical, Third Ear, Redlight Music):
Thanks for the Music!
Horatio (Natural Rhythm / Desolat / Viva Music)
cool ep
Titan Road (Monkeys Music / Dear Deer / Future Allianz)
Caoak remix for me!
FreakMe
Download for FreakMe! Thanks
JP Chronic (Chronovision Ibiza):
Caoak remix for me, thanks
Roberto Surace
thanks for music 🙂 support!
Francois Bresez & El Marco (CWA- CWV – konzept [:] musique – Supermarket Unlimited – Rimoshe)
Thanks for the download!
Sanya Shelest/No Hopes
very nice! will try, thanks
Brandon Andrews (Early Morning Music / Get Cereus)
Nice release – will give the original a try, thanks!
Phoneme
fat groove, i like it!
Anderson Noise
thanks for the music
Bara Bröst (Exploited/BBE Records)
kuul. will try!
Neil Parkes (Hot Creations)
Nice groove on the Caoak Remix 🙂
Massimo Cassini (Amam/Inmotion)
Thanks for the pack.
Mikel Gil
Download for Mikel Gil, thanks.Original for me.
De La Maso (Area Remote / Bla Bla) (German)
rmx for me, thanks
Sammy W
Cool release, thank you for sending!
John Norman (KMS, Thoughtless, Hype Muzik, Stripped, UNT!):
nice solid EP. Thanks for the music!
Yoshi Horino ():
Caoak Remix is for me.
Da Cat (Balearic Affair ):
nice stuff, cheers
Michael Stukes (Dubmaster Productions):
Awwwwwwww YEAAAAA!
Juanfra Munoz ():
Downloading for Juanfra Muñoz
Luca Fabiani ():
Thanks for the music.
MEDIA
salah sadeq (techfui, the crate, bitm)
thanks will try them out
DJ RIm-K (fm brussel)
Nice !!
Deephouse.it
wery nice! Thanks for the music!
Something Global Radio (Something Global Radio)
Will try out. Thanks for the music, downloading for Steve'Butch'Jones presents Something Global (radio show / podcast). Check www.SomethingGlobal.com for plays.
Seb FM4
Original version for me. good stuff. thx
Mannix (Tilllate Magazine/98.3 Superfly/Play FM)
remix for me
Harry Avers (Noice Podcast)
NIce Groovy Ep.
Underground TelAviv:
nice!!!!!!!!!
Plastic Lounge (Radio-FDS/CLUB 27)
playing both
Mark J (comuniquem.com)
cool, will play both!
dancefloor mayhem (Dancefloor Mayhem, Techno.FM, KBOO 90.7 FM)
Really like the remix.
simon deep (Fresh FM Volcano Radio Pulzar FM 0FM deepsouthaudio.net)
nice tight chunky vibes thanks
Jacbri Magazine (Jacbri)
phat stuff, love the rmx
Kadabra (5 Chicago Mag) ():
Remix for me.
Rob Zile (KissFM,Subtec Records,For the Record):
original for me
DJMmagazine ():
Downloading for DJMmagazine.. Thanks !!!
ABarth (phonanza fm):
Loving both versions. Will be featured in the nect radio show! Very good production!
Urban Fabric (Urban Fabric):
Supporting both cuts. Dope.
Beat Vision ():
original track hits the spot…
Frequencies.eu ():
nothing but the bassline
Magistro Ray (Notte Brava Podcast):
thx support…
Mesquitas (AELLA/THIRTYONETWENTY/HOST AT 106.7FM):
nice will try in my show!
Lipstick Disco ():
cool tracks
Global Dance Session ():
Downloading for Global Dance Session.