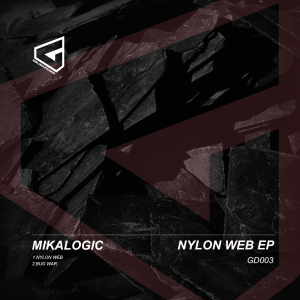 Supported by: Martin Ikin, Robert Owens, Paco Osuna, Mark Knight, Paul C, Joseph Capriati, Luna City Express, Paul Oakenfold, Cristian Varela, Gene Farris, Steve Lawler, Paul C…
ARTIST: MIKALOGIC
TITLE: NYLON WEB EP
RELEASE: AUG 17 2015
LABEL: GOLDENTEARS RECORDS
CAT#: GD003
DJs
Paul Oakenfold (Perfecto Records)
Downloading for Paul. Thanks for sending.
Martin Ikin / Soul Purpose (Soul Purpose)
Bug War Is kool
Richie Hawtin (Minus)
downloaded for r hawtin
Robert Owens (world)
Cool tracks
Paco Osuna (Plus 8)
Will try thanks 😉
Marco Carola (Music On):
downloading for marco carola, thanks
Cristian Varela (Pornographic Recordings):
downloaded
Gene Farris ():
thanks!
Steve Lawler (VIVa MUSiC / VIVa Limited):
Downloaded for Steve Lawler, thanks.
Mark Knight (Toolroom Records):
NICE BEATS
DJ Paul C (Hot Creation, 8 Bit, Moonharbour):
Download for Paul C …. thank u
Miss Mee (Patsada, Robsoul):
Thanks for the music.
Joseph Capriati
Downloaded for Joseph Capriati, thanks.
Benji Candelerio ():
funky tunes thanks
Bara Bröst (Exploited/BBE Records):
cheers!
Nick Fiorucci (Hi-Bias, zipDJ)
Downloading c/o Nick Fiorucci
Luna City Express
like both tracks here" will play bug war! THANKS;-)
Fabio Florido (MINUS / ENTER)
Thanks for sending!
David Herrero (Ole Music )
Downloaded for David Herrero, thanks
Luca Fabiani
Thanks for the music.
VooDooSon (Loulou , Sleazy G , Street King , Cr2…)
Download for VooDooSonThx
Jean Pierre (Defected)
Bug War is cool, will try out!
Sophie Nixdorf (Overdrive)
Downloaded for Sophie Nixdorf, thanks.
Argy K (Karmak Records)
nice tracks
Francois Bresez & El Marco (CWA- CWV – konzept [:] musique – Supermarket Unlimited – Rimoshe)
Bug war for us
Claes Rosen (MOS/ GU / Unreleased Digital / Mondo / Brown Eyed Boys / Strippe)
grabbing. Thnx
J-Hecht (Release Musiq, Shelving Music, Dispute Records)
Bug War is fantastic! Many thanks
Titan Road (Monkeys Music / Dear Deer / Future Allianz)
Nylon Web is huge! Thanks!
Da Lukas (LouLou Records/303Lovers/King Street Sounds/Hotfingers…)
Cool, I like both tracks..
David F (Mirabilis Records)
liking Bug War
Pretty Criminals
Bug War is large – thanks
Dj Ford Foster
Nylon Web is pretty nice.
Emilijano (UrbanVibe, Italo Business) (UrbanVibe Records, Di.FM, Energy Radio)
Nice Release!
grijo
Strong Tracks Guys!!! For me "Nylon Web" is perfect!! Great drums and groove.
Higinio (i Records, Nite Grooves, Abstract Theory, Chaman Records)
I´ll try Bug War, thanks!
Thanos T (Sleazy Deep, Nurvous, Fade)
Amazing grooves!
ANDRTOL (WaveTech Music,Electronic Tree,Giraphone Records.)
Bug War for me!!!THanks!
One Million Toys (Baroque/Mistique/Freegrant/Fatali Music):
Nylon Web for me 🙂
Daniel Lera (Cray1 Digital Works):
Nice EP!! thanks
D-FORMATION (Beatfreak):
Bug War is nice
Denite (Diynamic, Get Physical, Third Ear, Redlight Music):
Bug War is nice! Thanks for the music.
GruuvElement\'s (Groove On/Stereo Production/Natural Rhythm) ():
thanks for the music
Toni Rios ():
bug war for my set. 😀
Cool People (Natura Viva/Hush Recordz/Funkpony Records) ():
Nylon Web for us! Thanks
Momo Dobrev (Phraser Records):
Nice release, thanks.
Jason Owen (Evoked/Polytechnic):
good stuff!
Dj Raid aka Jeancy (Get Physical, Form, Beat Yourself):
Mikalogic rocks!
Cristian Viviano (COCOLINO / DESCENDING ORDER (IBIZA)):
nice
AndReew (Sci+Tec,Form,Octopus):
nylon web is nice,thanks
matias zeque ():
awesome nylon web track! thnx
MEDIA
Artem Neba (EKLEKTICA KISS FM)
Thx! Nice release!
Jacbri Magazine (Jacbri)
solid tracks, bug war is my fave
Beat Vision
Nice little release, liking Nylon Web – thanks will support…
Mark J (barcelonaconnect.com)
on bug war like a tramp on chips!
Steve 'Butch' (Something Global Radio)
Thank you for the music, downloading for Something Global (radio show / podcast).
Harry Avers (Noice Podcast)
Bug War… !!!!!
Mark Found (Digitally Imported)
nice thanks !!
Andi Durrant (Capital FM)
Downloading for Andi Durrant/Distorted Productions. Tracks also delivered for EDX, Chicane, PvD and BCM Radio Shows.
Pete Simon (54house.fm)
kicks me,try and test it
Mental X (SOG Rec / Swiss National Radio DRS VIRUS):
cool, thanks
Hernan Serrao (Groovenight Records – Proton Radio):
Amazing release
salah sadeq (techfui, beirut in the mix, the crate):
nylon web
Kitchen Crowd (Bliss 104.2 ):
Nylon web for me
Magistro Ray (Notte Brava Podcast):
Nylon For Me THX!!!Support
Dustin Kinney (5 Magazine):
Nylon Web is cool
i3000 aka Mario (Radio Studio One):
Tks for the release
dj.inc. (tempoatl, protonradio):
check Tempo on ProtonRadio for support!
Beat Vision (http://www.beat-vision.com):
Great release, review on http://bit.ly/1K5n847
Phill Da Cunha (FG Radio ):
Bug War Rocks ! Full Support Underground FG