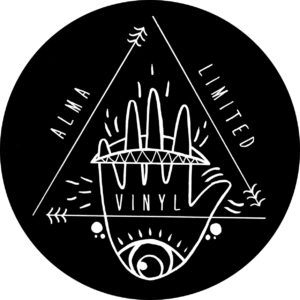 Supported by The Mekanism, Sam Divine, Collective Machine, Stacey Pullen, Toto Chiavetta, Rummy Sharma, Javi Bora, Paco Osuna, Spiritchaser, Paul Nazca, Anthony Pappa, Marcos Cruz, Dj Vivona, Kenny Brian, Albert Marzinotto, Sossa.
ARTIST: Javier Varez & Sosandlow
TITLE: Alma Limited Vinyl 003
LABEL: Alma Soul Music
CATALOGUE #: ALV003
TYPE: Vinyl
RELEASE DATE: 02/12/2016
TRACKLIST:
A1 Javier Varez – Ciencia Friccion (Original Mix)
A2 Javier Varez – Inmarcesible (Original Mix)
B1 Sosandlow – El Mito (Original Mix)
B2 Sosandlow – De La Caverna (Original Mix)
DESCRIPTION:
The third edition of Alma Soul Music's limited vinyl series is now on the streets! This time the head honchos of the label sign the four tracks of this absolutely black record. On the A side Javier Varez comes back after his well known "I'm Not Real EP" with a couple of melodic and hypnotizing vocal deep house tracks. The talented duo Sosandlow (Alex Sosa + D Low) also develop some deep vibes on their first cut "El Mito" and they complete the B side with a bomb called "De La Caverna", specially for tech-house lovers. Just let your Alma dance!
SOUNDCLOUD PREVIEW
https://soundcloud.com/alma-soul-music/sets/alma-limited-vinyl-003/s-D9NE1
SOME LINKS:
www.almasoulmusic.com
http://www.facebook.com/almasoulmusic
http://soundcloud.com/alma-soul-music
http://twitter.com/almasoulmusic