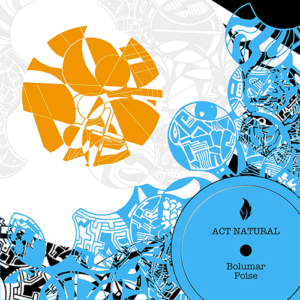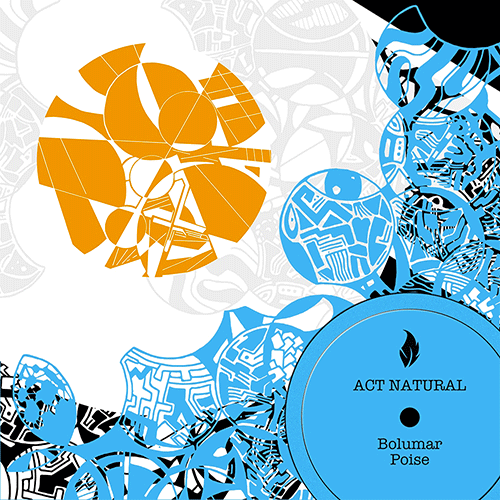 Supported by Nicole Moudaber, The Avener, Marco Carola, Paco Osuna, Richie Hawtin, Argenis Brito, Robbie Akbal, Sossa, Joseph Capriati, Michael de Hey and many others!
Reviews:
http://www.altroverso.net/?p=32069
https://soundcloud.com/wearesoundspace/premiere-bolumar-evoo-000-act-natural
http://www.technoszene.com/core/2015/09/30/poise-bolumar/
http://www.deephouse.it/il-nuovo-ep-di-bolumar-poise/

Artist: Bolumar
Title: Poise
Release: Nov 09 2015
Label: Act Natural
Cat: [ANR050]
Supported by:
Nicole Moudaber
diggin
The Avener
Downloadingfor the Tavener
Marco Carola (Music On)
downloading for marco carola, thanks
Fedde Le Grand (Ministry Of Sound / Defected / Kontor / Ultra / Armada / Spinnin)
Thank you for the music you sent us! We look forward to reviewing it.
Richie Hawtin (Minus):
downloaded for r hawtin
Paco Osuna
Will try thanks 😉
Argenis Brito
thnx great job!!
G.Pal (Swift Records):
Poise my favorite
hugo (Systematic):
nice release. evo is my fav. thanks!
Tripmastaz
cool stuff
Robbie Akbal (Supernature,Akbal Music, La Santanera):
really cool tracks. will try them!
Giom (Loulou Records)
Vedra sunset is cool
Sossa (Circoloco)
nice release full support
alen sforzina
cool release.
Eli & Fur
Nice and sexy, EvoO 000 is a favourite. Thanks x
Gene Farris
thanks!
Jimmy Van M
Diggin this. Thx 🙂
JP Chronic (Chronovision Ibiza)
will try Poise, thanks
Stefano Lotti
Thanks for the music!
Maertz (Konzentrisch Music)
Really nice music from Bolumar as usual, I will play for sure. Thanks.
FreakMe (Noir):
Downloaded By FreakMe, thanks 😉
Mijk van Dijk (microglobe productions)
Poise is cool.
Joseph Capriati
Downloaded for Joseph Capriati, thanks.
Michel de Hey (Hey! Muzik)
Good stuff, thanks!
Miguel Garji ():
Really good Minimal tracks. I will try in my Deepfusion radio. Gracias
keine moniker (cream couture | ibizaglobalradio)
chunky, love evoo will play thanks
Juanfra Munoz
Downloaded for J.Munoz. Please check www.facebook.com/djjuanframunoz for podcast and charts.
David Scuba (Superfreq)
Poise & Ev0 for me cool deep twisted with a dope groove always a win forme
Guido Nemola (Recycle Records)
good music from Bolumar
Francois Bresez & El Marco (CWA- CWV – konzept [:] musique – Supermarket Unlimited – Rimoshe)
Great EP! Good tracks! Support from us!
Stefano Testa
Well done Bolumar!Sabeth Swing and Evo for me, but the whole ep released is great!thank you for the music
Luca Fabiani
Thanks for the music.
Mesquitas (AELLA/THIRTYONETWENTY/HOST AT 106.7FM)
Wicked ep tnx for sharing!
Kenny Brian (Time Has Changed/Resopal Schallware/Takt Records/Pacha/Monique S)
nice one, thx!
Denite (Diynamic, Get Physical, Third Ear, Redlight Music)
Bolumar did it again. Full Support. Thanks for the Music!
Brandon Andrews (Early Morning Music / Get Cereus)
Always been a fan of Act Natural. Great sounds – love EvoO 000, will def support!
Claes Rosen (MOS/ GU / Unreleased Digital / Mondo / Brown Eyed Boys / Strippe)
will try, thnx
Phoneme
cool "Poise"
Manali Shah
Will play! Thanks 🙂
Dhaze (Memoria -Moan – Little Helpers – Bla Bla -Amam – Cyclic)
Super Bolumar and Super EP, Full support
salah sadeq (techfui, beirut in the mix, the crate)
really like these beats and grooves will be playing for sure. thanks!
grijo (Get physical/UNblock)
Very nice realese! Thanks!
Larry Cadge (Smiley Fingers)
Great stuff! Thanks.L.
Huly Heine (Recycle – SK recordings)
EvoO 000 for me
Dj Raid aka Jeancy (Get Physical, Form, Witty Tunes, Beat Yourself, Electronique, Mo)
Hot release!
AndReew (Sci+Tec,Form,MKT)
se vedra sunset for me,thanks
Astin (Snatch Recordings)
yes !! nice one ! thanks
Alkalino (Audaz / SOR)
will try, thks!
Jason Owen (Evoked/Polytechnic)
solid release
Eddy Romero (Expmental , Little Helpers , Lucidflow, Deeperfect)
Bolumar as always great ! Love this EP !
Titan Road (Monkeys Music / Dear Deer / Future Allianz)
Wicked stuff. Awesome production! Thanks for sending!
Jenny Johansson (Drumandbasics)
wicked tracks!
VooDooSon (Loulou , Sleazy G , Street King , Cr2…)
Download for VooDooSonThx for the music.
David Glass (Space)
Cool beats!
Javier Varez
Cool EP guys! I like Sabeth Swing, will use Es Vedra in our radio show, thanks!
dj.inc. (tempoatl, protonradio)
Nice Ep. Should get some deck time!
Alex Clavijo (JMG Magazine Bar Stool M
Nice EP. Will try these. Poise is my fav so far.
Juan Zolbaran (savor music /drumma/ time has changed)
will try thanks!
Samu (Novo Music – Little Helpers )
Great music by Bolumar as usual!! Thanks for the music
Camiel Daamen (Paradigm, Klopfgeist)
Nice pack guys
Rico from Paris – Bimini Records
Evo is cool, thank you 😉
Gruw Frequency (Dul Recordings, Little Helpers, Plettro Records, Gruw's Mus)
Great pack… Poise for me 🙂
Joel Armstrong (Mother Recordings, ALiVE, Circle)
nice stuff
Alfonso León
groovey. specially like Sabeth Swing ;))
Ramona Yacef (We Play The Music We Love)
Nice!
Giulia Paradiso
will try! thxs
Marina Karamarko (Top)
really nice vibes!
Joaco Cabrin ((Amazing Music, Deepinside, True Balance))
nice ep !! EvoO 000 excelent.
Andy Slate (soulmate, eightmileshigh)
cool stuff!!
Philip Arruda (RedOrbRecords-Rawthentic-Roots+Wings)
Amazing EP by Bolumar! Proper minimal grooves, sounds, music. will play/chart. thx!
Massimo Cassini (Amam/Inmotion)
Nice pack, thx. support
Ricky Erre Love (Desolat):
Poise and Sabeth Swing are funk for me !!! i will play those tracks !!!
TrockenSaft (KDB/Witty Tunes/Smiley Fingers):
NICE Minimal sound! Evo 000 – cool
De La Maso (Area Remote / Bla Bla) (German):
will try
Andrea Martini (Emotive):
Cool track thanks for sharing
Yoshi Horino ():
Paise is for me. Thanks.
Wayne Madiedo (Habitat, 303lovers, Hotfingers, Abzolut):
Really Nice music, thanks!
Haurelio (Wicked Style):
downloaded 4 HAU…
MEDIA
John Dos // technoszene.com
Funky Release, review @ http://www.technoszene.com/core/2015/09/30/poise-bolumar/
Harry Avers (Noice Podcast)
thanks for sending….
Sascha Kösch (De:Bug)
considering for review
Andi Durrant (Capital FM)
Downloading for Andi Durrant/Distorted Productions. Tracks also delivered for EDX, Chicane, PvD and BCM Radio Shows. Check track lists for support info.
Russell Deeks (This Is Why We Dance)
Bit too glitchy for me I think, but will DL and give it a chance…
Steve 'Butch' (Something Global Radio)
Will try out. Thanks for the music, downloading for Something Global (radio show / podcast).
Misk (AltroVerso Radio)
playlist and support in altroverso
HMWL
Intricate and intelligent stuff here!vibe is really lush and warm, great stuff! Grabbing for HMWL.
Dustin Kinney (5 Magazine)
Sabeth Swing and Evo for me
Mickey Imperi (Beachgrooves Fm , LeChicFM , Tunnel FM, TheDeepRoom, HMX Radio)
Thanks for this very nice release. Poise for me. will include soon in my radio programs.
Soundspace
Evo0 000 is ace!
Jacbri Mag
cool ep
East Cafe (Proton Music, Particles, Perfecto, Dopamine, Per-Vurt, Balkan Co)
Not the style that I usually play out, but Sabeth Swing is well produced and solid! Thanks
simon deep (Fresh FM Volcano Radio Pulzar FM 0FM deepsouthaudio.net)
excellent collection thanks
Cinematique (Material Music Sublabel)
Lovely music here. Thanks.
Johan N. Lecander (Digitally Imported Radio)
Nice stuff, Es Vera Sunset is probably my pick. will try out all though
Plastic Lounge (Radio-FDS/CLUB 27)
evooo is it
Mark J (barcelonaconnect.com)
great sounds! like em all!
Magistro Ray (Notte Brava Podcast)
EVo For Me!!!!THX Suport
Beat Vision
Nice release, will support… thanks
DJ Electric (Deepology):
very good all tracks, thank you
Jixo and Danz ( Blue Marlin Ibiza – UAE ) ():
Sabeth Swing
Dave Johnson (AREA 32 RADIO):
Like Sabeth swing and Es Vedra Thanks
Mark Slee (Listed, House-Heads, Proton Radio):
Nice tunes, Sabeth Swing for me.
De:Bug (De:Bug):
considering for review
wiredmusic.eu ():
will def play. thanks for the music